When:
4th October 2018 – 12th October 2018
all-day
2018-10-04T00:00:00+02:00
2018-10-13T00:00:00+02:00
Where:
Überall auf der Welt, siehe Karte am Ende dieser Seite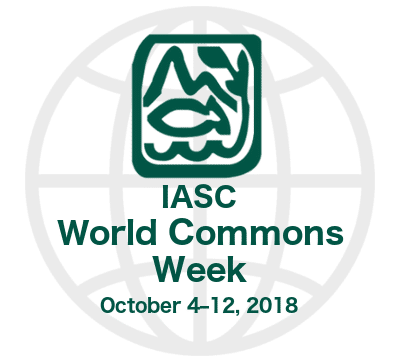 English version     

Russian version
Das Jahr 2018 feiert das 50jährige Jubiläum der Science-Publikation von Garett Hardins 'Tragödie der Allmende'. Obwohl Hardin (1968) vielmehr den freien und ungeregelten Zugang diskutierte, als die Kontrolle und Steuerung von Gemeingütern, verhalf sein Artikel dazu, das Interesse der Wissenschaft und Forschung breit gefächert auf das Thema zu lenken, sowie Einfluss auf die Praxis in vielen Bereichen zu nehmen. Die moderne Commons-Forschung und Praxis beschäftigt sich mit Wasser, Wald, Fischgründen, marinen Ökosystemen, der globalen Atmosphäre, Infrastruktur, urbanen und ländlichen Räumen, Technologie, Software, Wissensaustausch und Ko-produktion.
Was aus diesem halben Jahrhundert der Wissenschaft deutlich hervorging – und was Hardin nicht erkannt hatte -, ist die Tatsache, dass eine große Bandbreite von Ressourcen nachhaltig durch Commons-Governance–Ansätze verwaltet und gemanaged werden. Die Analyse von groß-skaligen und globalen Umweltproblemen durch die "Commons-Governance-Lupe" kann sogar Wege für Alternativlösungen bezüglich einiger der hartnäckigsten Probleme bieten, vor denen die Gesellschaft heute steht.
Um dieses letzte halbe Jahrhundert der Wissenschaft der Allgemeingüter zu ehren und die Aufmerksamkeit auf typische Charakteristiken, die Umsetzung und das Potential der Commons Governance weltweit zu lenken, organisiert die International Association for the Study of the Commons (IASC) vom 4. bis zum 12. Oktober 2018 eine "Internationale Woche der Gemeinschaftsgüter".
Die Woche wird aus drei Hauptkomponenten bestehen.
Kick-off Politik-Seminar und Konferenz in Washington, D.C. (4.-5. Oktober 2018)
Weltweite Veranstaltungen (8.-12. Oktober 2018)
24 Stunden globales Webinar (12. Oktober 2018)
Wir laden Sie dazu ein, an jedem dieser geplanten Events teilzunehmen – ob aktiv durch die Organisation eines Events oder als Teilnehmer oder Zuhörer.
Weitere kontinuierlich upgedatete Informationen finden Sie auf der Webseite der Internationalen Woche der Gemeinschaftsgüter: https://wcw2018.iasc-commons.org
Aufgrund der Globalität der Aktionswoche möchten wir genauso nicht-englischsprachige Beiträge willkommen heißen, sowie lokale Events, die in der Sprache der Region abgehalten werden. Bitte kontaktieren sie die IASC-OrganisatorInnen für weitere Details.
---
October 4: Policy Seminar at IFPRI (International Food Policy Research Institute), Washington, D.C.

Main focus of this seminar will be on key developments in policy and practice to secure rural and urban commons.
Organizer
October 5: Conference "Celebrating Commons Scholarship" (Georgetown University, Washington, D.C.)

This conference will draw on the expertise of scholars across disciplines, from both within and beyond Georgetown University, to illustrate the breadth and richness of commons scholarly inquiry.
Organizers
If you already want to express your interest in the event, send an email with brief information about your interest to Prof. Foster.
---
These globally distributed, locally organized events will vary in topic and function, driven by individual organizer interests and contexts and can take place anytime during the period of October 6–12th, 2018.
We encourage others across the globe to organize their own Commons Awareness Week event affiliated with this globally coordinated event! Given the global nature of the proposed events, we also welcome non-English speakers and local events held in the local language. Please contact the IASC organizer directly for more details.

If you decide to do so, let us know by completing this short Google Form, or e-mail the organizer: Prof. Charles Schweik (University of Massachusetts Amherst)
Examples of local events might include:
teach-ins on commons-related subjects;
talks delivered by local scholars or commons practitioners on specific commons-related topics;
local mini-conferences, local workshops on commons practice or activism;
or simply sessions to participate collectively in one or more of the noon-time webinars (described below).
Organizer
---
We are in the process of identifying up to 24 speakers, each to give a webinar at the noon hour of many (if not all) time zones worldwide during this final day of the week-long event. Webinars will be recorded and later published on the IASC website. We intend to use this Webinar Marathon as a starting point for a series of IASC webinars in the future.
For more information on how to participate, visit WCW2018.iasc-commons.org
---