When:
4th October 2018 – 12th October 2018
all-day
2018-10-04T00:00:00+02:00
2018-10-13T00:00:00+02:00
Where:
мероприятия по всему миру, смотрите ниже на карте в конце этой странички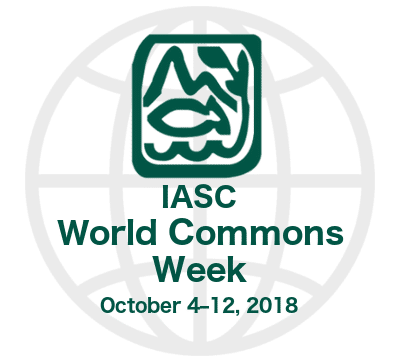 English version     

German version
В 2018 году будет пятьдесят лет с тех пор, как Гаррет Хардин опубликовал свою знаменитую статью «Трагедия общин» в журнале Science (Наука). Несмотря на то, что Хардин (1968) в своей статье обсуждает вопрос открытого нерегулируемого доступа к ресурсам, а не управления общинами, его статья стала существенным толчком для начала исследований и практики общин в различных тематических областях. Сегодня тема общин активно обсуждается по отношению к воде, земле, лесам, воздуху и глобальной атмосфере, рыболовству, морским взаимоотношениям, созданию инфраструктур, градостроительству и развитию сельской местности, разработке технологий и программного обеспечения, в сфере обмена знаниями и их совместного воспроизводства, а также по отношению многого другого.
То, что стало известно из этой полувековой научно-практической деятельности – и то, что не было признано Хардином, – это тот факт, что широкий круг ресурсов устойчиво управляется именно методами управления общинами. Анализ крупномасштабных и глобальных экологических проблем через «линзу управления общинами» может также предоставить пути для альтернативных решений некоторых из наиболее насущных проблем, с которыми сегодня сталкивается общество.
С целью признания и почтения этого полувекового научного и практического опыта, а также привлечения должного глобального внимания характеристикам, реализации и потенциалу управления общинами, Международная Ассоциация Учения Общин (МАУО) организует «Международную неделю осведомленности об общинах», запланированную с 4 по 12 октября 2018 года. На этой неделе будут организованы мероприятия со следующими тремя основными компонентами:
Стартовые семинар и конференция в Вашингтоне, США (4 и 5 октября 2018 года)
Мероприятия на местах по всему миру (с 6 по 12 октября 2018 года)
Глобальный марафон двадцати четырех вебинаров (12 октября 2018 года)
Мы приглашаем Вас принять участие в каждом из этих мероприятий – активно через организацию собственного мероприятия или в качестве участника/слушателя в одном из перечисленных выше. Дополнительную информацию, которая будет регулярно обновляться, Вы можете найти на сайте Международной недели общин: https://wcw2018.iasc-commons.org.
Так как неделя имеет глобальный характер, мы также рады Вашему вкладу на языках кроме английского, например через организацию местных мероприятий на языке соответствующем Вашему региону. Для дополнительной информации Вы можете обратиться к организаторам в МАУО.
---
October 4: Policy Seminar at IFPRI (International Food Policy Research Institute), Washington, D.C.

Main focus of this seminar will be on key developments in policy and practice to secure rural and urban commons.
Organizer
October 5: Conference "Celebrating Commons Scholarship" (Georgetown University, Wsahington, D.C.)

This conference will draw on the expertise of scholars across disciplines, from both within and beyond Georgetown University, to illustrate the breadth and richness of commons scholarly inquiry.
Organizers
If you already want to express your interest in the event, send an email with brief information about your interest to Prof. Foster.
---
These globally distributed, locally organized events will vary in topic and function, driven by individual organizer interests and contexts and can take place anytime during the period of October 6–12th, 2018.
We encourage others across the globe to organize their own Commons Awareness Week event affiliated with this globally coordinated event! Given the global nature of the proposed events, we also welcome non-English speakers and local events held in the local language. Please contact the IASC organizer directly for more details.

If you decide to do so, let us know by completing this short Google Form, or e-mail the organizer: Prof. Charles Schweik (University of Massachusetts Amherst)
Examples of local events might include:
teach-ins on commons-related subjects;
talks delivered by local scholars or commons practitioners on specific commons-related topics;
local mini-conferences, local workshops on commons practice or activism;
or simply sessions to participate collectively in one or more of the noon-time webinars (described below).
Organizer
---
We are in the process of identifying up to 24 speakers, each to give a webinar at the noon hour of many (if not all) time zones worldwide during this final day of the week-long event. Webinars will be recorded and later published on the IASC website. We intend to use this Webinar Marathon as a starting point for a series of IASC webinars in the future.
For more information on how to participate, visit https://wcw2018.iasc-commons.org
---