When:
4th October 2018 – 12th October 2018
all-day
2018-10-04T00:00:00+02:00
2018-10-13T00:00:00+02:00
Where:
across the globe; see map at bottom of this page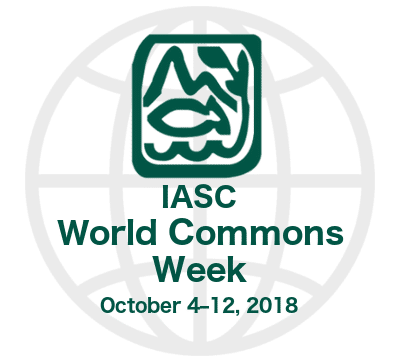 German version     

 Russian version
The year 2018 will mark fifty years since Garrett Hardin published his "Tragedy of the Commons" article in Science. His article helped to launch wide-ranging commons research and practice in many thematic areas, including water, forests, fisheries and marine settings, the global atmosphere, infrastructure, urban and rural areas, technology and software, and in knowledge sharing and co-production.
This past half-century of scholarship has revealed what Hardin did not recognize: that a wide range of shared resources can be sustainably managed through commons governance approaches. Analysis of large scale regional and global environmental problems through the lens of commons governance may offer pathways to alternative solutions to some of the most intractable problems facing society today.
In recognition of the past half-century of commons scholarship, and to raise awareness of the nature, practice, and potential of commons governance around the globe, the IASC is organizing a global "World Commons Week," scheduled for October 4–12, 2018.
---
October 4: Policy Seminar at IFPRI (International Food Policy Research Institute), Washington, D.C.

Main focus of this seminar will be on key developments in policy and practice to secure rural and urban commons.
Organizer
October 5: Conference "Celebrating Commons Scholarship" (Georgetown University, Wsahington, D.C.)

This conference will draw on the expertise of scholars across disciplines, from both within and beyond Georgetown University, to illustrate the breadth and richness of commons scholarly inquiry.
Organizers
If you already want to express your interest in the event, send an email with brief information about your interest to Prof. Foster.
---
These globally distributed, locally organized events will vary in topic and function, driven by individual organizer interests and contexts and can take place anytime during the period of October 6–12th, 2018.
We encourage others across the globe to organize their own Commons Awareness Week event affiliated with this global coordinated event! Given the global nature of the proposed events, we also welcome non-English speakers, and local events held in the local language. Please contact the IASC organizer directly for more details.

If you decide to do so, let us know by completing this short Google Form, or e-mail the organizer: Prof. Charles Schweik (University of Massachusetts Amherst)
Examples of local events might include:
teach-ins on commons-related subjects;
talks delivered by local scholars or commons practitioners on specific commons-related topics;
local mini-conferences, local workshops on commons practice or activism;
or simply sessions to participate collectively in one or more of the noon-time webinars (described below).
Organizer
---
We are in the process of identifying up to 24 speakers, each to give a webinar at the noon hour of many (if not all) time zones worldwide during this final day of the week-long event. Webinars will be recorded and later published on the IASC website. We intend to use this Webinar Marathon as starting point for a series of IASC webinars in the future.
For more information on how to participate, visit WorldCommonsWeek.org.
---