Strengthening rights to the commons
The coastal and marine environments of the Pacific Coast in Central America present a cultural and historical use of their rich natural resources , considering the sea is and always has been a well of common access. The original human populations living in these areas continue being environmentally, socially, culturally and economically vulnerable.
The biological and cultural richness of these areas has deteriorated at a very accelerated rate for many reasons. The causes include irresponsible artisanal and industrial fishing, massive tourism development, the boom in coastal real estate development, et cetera. These causes have engendered a loss of the cultural identity of the marine and coastal communities and their traditional knowledge associated with using these resources.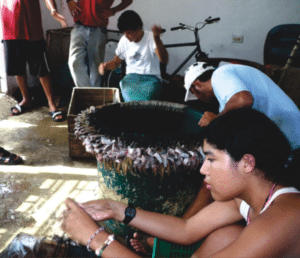 With a State Policy and recognition of Marine Responsible Fishing Areas under communitary governance regimes, CoopeTárcoles R.L., with the support of CoopeSoliDar R.L, is the first artisanal fishing community in Costa Rica that in the first decade of the twenty-first century has prepared and applied a local Code for Responsible Fishing and a database for their activity. It is currently moving forward for recognition of the first community marine area for responsible fishing in Costa Rica. This initiative motivates innovative management and decision making and a form of community governance for the coastal marine resources, for those goods that are held in common, recognizing and maintaining their nature as such.
The resources continue under a common set-up, not establishing exclusive rights, but voluntary norms that allow for the conservation and sustainable use of the coastal and marine resources, with the assistance of a state that recognizes the traditional rights for fishing in these communities.
Key factors
Key factors have been recognizing new forms of governance where the communities of artisan fishermen and fisherwomen participate in management and decision making for the areas where they have traditionally gone about their business, establishing voluntary norms for their sustainable use and management, resulting in the empowerment of fisher folks, in the rescue of cultural identity and in the strengthening of voice and participation.
Parties involved
Involved were two cooperatives, one of artisanal fishermen and fisherwomen (CoopeTárcoles R.L.), and the other of professional fishermen (CoopeSoliDar R.L.). CoopeTárcoles R.L., founded in 1985, is a cooperative involving small artisanal fishermen and women. It has several objectives: direct marketing of the artisanal fishing products, elimination of brokers, attainment of improved prices, encouragement of better labor conditions, creation of sources of employment, sharing knowledge about fishing, and raising stakeholders' organizational level and degree of participation. Those who benefited most from these developments were the artisanal fishermen in the Pacific Coast.
IASC involvement
The information continuously received via the IASC was of great interest to the parties involved and was intimately related to the themes the parties involved were working on.
Additional info available via www.coopesolidar.org, www.consorcioporlamar.com, and www.coopetarcoles.org.
Bibliography on this case study available here (pdf).
Authored by: Vivienne Solis Rivera, CoopeSoliDar R.L. Associates