River basin as a viable space for natural common-pool resource governance – The case of forests commons in Albania
Albania has committed to lower carbondioxide (CO2) emissions by 11.5 percent in 2030 versus 2016, being among the first to have ratified the Paris declaration on Climate Change. With a total forests' loss of 7.57 million cubic meters in 10 years (2000-2009), i.e. a deforestation rate of 1 percent per year, this commitment sounds highly optimistic and challenging. It is demanding for the government having the primary responsibility for managing forests, confronting for local people who make their living out of forest products and services, and perplexing for researchers. Can Albania really afford to cope with this endeavor, or is this merely wishful thinking, a promise made to the Union, hoping for a window of membership opportunity to open soon?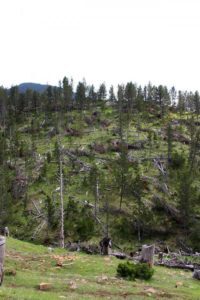 One third of the Albanians live in the mountainous rural areas, covering more than 70 percent of the country. Forestry and pastoralism are the only economic means to sustain lives for this portion of the population. Locals have established an informal yet weak network of common pool forest management. Forests are vital to their livelihood. Government, as the official forests' owner manages through a system of licensed rights, with often failing results due to increasing corruption, large territories and insufficient human capacities. This hybrid system holds a critical gap. The informal and intuitive forest governance is useful to ecosystems' resilience, but small and therefore with minor impact. The conventional governance has well-articulated intentions, but is unable to steer ecosystem governance agendas towards sustainable practices. If this gap persists and climate trends remain unchanged, highly severe scenarios will affect Albania, resulting in extreme weather, droughts, and floods. The major urban areas are home to more that 50 percent of the population and the already scarce arable land risks total extinction.
With its proactive attitude, Albania intends to complete its task by improving forest exploitation technology, doubling wood combustion efficiency and taking on forestation rate of 500-1.000 hectares per year. Still, the path to this ambitious breakthrough requires narrowing the gap, by significantly strengthening the system of forest commons. Albania can do so, by reviewing forest legislation to allow for a commons' regime; enabling commoners to establish robust institutions; establishing a convergence path between territorial scales of conventional governance and commons, using the watershed approach; and making use of the hook – a innovative social net of 251 users associations, organized around river-basins and representing commoners in a yet to come multi-layers system of forest governance.
Author
Rudina Toto
Co-PLAN, Institute for Habitat Development
Rruga Bylis 12, Tiranë, Albania
phone: +355 692 060 167
rudina_toto@co-plan.org