This case story describes a joint project of the Department of Anthropology at the University of New Brunswick, in collaboration with Fundy North Fishermen's Association, and the Fundy Baykeeper program of the Conservation Council of New Brunswick, using Public Participation GIS (PPGIS) to mitigate marine debris in the Bay of Fundy, Canada.
Plastic trash in the oceans is a huge worldwide problem. The research by Barnett and his colleagues showed there is a practical way to address it. Coastal communities are often a key source of ocean trash problems, but they can also be part of the solution. The research activities of this project were focused on the famous Bay of Fundy, a beautiful area on the North American coast that is beset by plastic trash. The researchers found that those who know their area the best, i.e. coastal communities, fishermen, and aquaculture farmers, can work together and develop strategies especially suited to their own area for effective clean-up of trash in marine waters.
Competition over use of the oceans is a familiar story, but the project showed that collaboration in order to solve common problems can be a reality. While fishermen and aquaculture farmers are often competitors, they came together to figure out how to reduce the ocean trash that hurts both of their operations. Working together with the help of our researchers, both groups worked to shape a map of marine trash in the Bay of Fundy. They saw the map as something that demonstrated clean-up activities and contributed to a positive story about safe navigation and protecting marine life. The map became an essential tool for addressing the problem.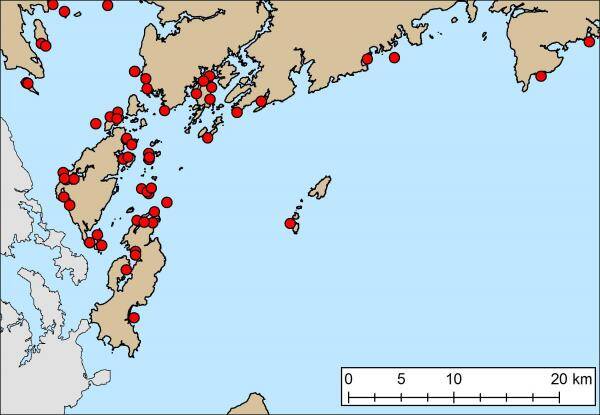 Work on the map reduced conflict and led to discussions on how to clean up the trash. Those discussions ended up combining the knowledge of the fishing industries, government, and organizations concerned with the problem. In the actual clean-up work at sea, the maps improved coordination of clean-up efforts.
Ultimately, the research shows that local collaborations and joint participation by coastal communities to make maps of the problem can play a role in reducing the rate at which coastal regions generate marine plastic pollution. That will be crucial to cutting back ocean trash: every year, it is the 192 coastal countries worldwide that put as much as 12.7 metric tonnes of plastic trash into the world's oceans.
The research group conducted three focus groups with eight experts from the fishing industry to understand their experiences interacting with large marine debris at sea, and to develop a map to locate these debris sites. The marine debris map was presented to fish harvesters, aquaculture operators, and government agencies at six meetings to verify the locations of marine debris, and to facilitate discussions on how to clean up specific types of debris. The focus was on leveraging the knowledge and expertise of the industries, government, and non-governmental organizations to determine priorities for clean-up, and to report on clean-up activities.
Read more in Barnett, A.J. et al. "The role of public participation GIS (PPGIS) and fishermen's perceptions of risk in marine debris mitigation in the Bay of Fundy, Canada," Ocean & Coastal Management 133 (2016): 85-94, https://doi.org/10.1016/j.ocecoaman.2016.09.002 (journal subscription required to read full version of article) or contact the principal author.



Authored by: Allain Joel Barnett, Research Scientist Department of Anthropology, University of New Brunswick at Fredericton, Canada.