Explore forms and factors affecting collective adaptation: A case study of saline intrusion in the Vietnamese Mekong delta
The Mekong Delta is the last part of Vietnam where the Mekong River reaches out into the East Sea. The Delta represents a great potential for agriculture (accounting for 50 percent to the whole national production) and aquaculture production. Saline intrusion (SI) is one of the major problems causing serious risks for agriculture and local livelihoods in the Delta. It occurs when not enough river discharge is flowing to the low-lying estuaries and instead salt water flows into the mainland. There is about 50 percent of the delta land are affected during the dry season and it will be more because of uncertain climate change.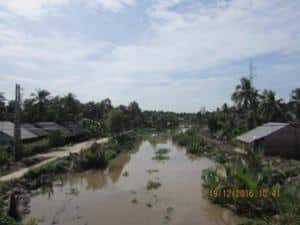 Our findings show that collective adaptation has been existed in the Delta and affected due to changes of livelihood structures and environmental conditions. Here, people live along two sides of canals/rivers. Their livelihoods connect strongly with water resource. In case of SI, collective adaptations can be found in forms of coordination of farming system and information sharing. Due to lacking of fresh water, rice cannot be cultivated in the dry season, most of farmers apply rotational system (46.09%). They have shifted from two rice crops to shrimp/rice system. Shrimp culture relying on saline water in the dry season (January to July) is followed by rice culture depending on rainwater in the wet season (August to December). Shrimp product brings more money for coastal farmers (five times more). By doing this together, farmers can reduce the water use conflict (rice needs fresh water and shrimp needs brackish water) and take opportunity created by SI.
Vietnam has a different background concerning collective adaptations. Unsuccessfulness of group working in the controlled market period (before Doi Moi in 1986) is a negative issue influencing the current situation. Nowadays, farmers are demonstrating that cooperation is different from the past. The integration of governmental program and households help the collective adaptation to be effective. Farmers' relationships are essential to reduce SI's impact in cases where governmental intervention has not yet arrived. In fact, households' situation and ecological characteristics should be taken fully into account to build appropriate land use policies to adapt successfully to SI.
Authors
Van Pham Huynh Thanh and Rudi Febriamansyah
Andalas University, Padang, Indonesia
An Giang University, An Giang, Vietnam
phtvan@gmail.com